Katelyn O'Connor – Blog 2
Introduction by Lucia Valente
Earlier in 2020, Peter Ballagh of Global Experiences Ireland approached me to enquire if LoG would be interested in hosting an international student for a summer internship program.  Of course, we always are interested in supporting people who are pursuing education and learning.  The current Covid-19 pandemic posed a problem as it would not be possible to host a student in Ireland.
This is our third virtual internship with Global Experiences.  Peter and I agreed to this virtual internship for an eight-week period with a young American University student.  I met Katelyn O'Connor virtually and we agreed to a series of blogs about topics that are relevant and are of interest to her personally. Following is the second in the series of blogs by Katelyn.
Blog 2 – The Importance of Creative Writing Despite Opposition
About the Author
Kate "Oak" O'Connor is a rising fourth-year student at The University of Scranton in Scranton, Pennsylvania. A double English and Philosophy major at The U, O'Connor is also enrolled in the Special Jesuit Liberal Arts Honors Program (SJLA), an alternate general education track with a focus on the tradition of Jesuit liberal arts. O'Connor has been published twice in Esprit, The University's review of arts and le, and was awarded the Berrier Prize for Poetry for "Penrose Wake." O'Connor has also presented a paper on Charles Dickens' travel essay "Night Walks" at Carroll University's virtual conference Victorian Pasts, Presents, and Futures. After graduating, O'Connor hopes to work in editing or in a publishing house– anywhere that the written word can be discussed, distributed, and celebrated.
***
Art is important!
That shouldn't be a controversial statement. But over the past several decades, those in charge of the American school system have systematically dismantled arts programs across the country. Most common in public secondary schools, this practice guts art classes, band rehearsals, and live theater to make more budgetary room for science and math—or, even more commonly, sports programs. As a result, students across the country experience far less of the arts than they should. It's viewed as frivolous and unimportant. The general attitude is, "Art won't get you a job, so it's a waste of time."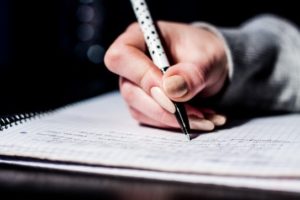 This also includes reading and writing. Not critical analysis or essay writing—and those are important skills to have—but creative writing, and creative reading. I took a single creative writing course during high school, and extenuating circumstances meant I had 3 teachers during that class, all with a completely different teaching style. If I hadn't been writing for years up until that point, that would've turned me away from ever trying. And this was at a private school! Public schools have it even worse; general education doesn't include poetry unless it's for analysis purposes.
Creative writing is just as important as critical writing. The world will always need writers of all kinds, and the more diversity the better. However, in this day and age, creative writing classes in public schools are rare, and poetry classes even rarer. I believe that by taking away the opportunity for teenagers to express themselves through writing, the public school system is doing entire generations a disservice.
Not only do creative writing classes give students the chance to write personal work, but they also offer the chance for students to read works. Whether written by peers or published authors, creative works provide a different kind of stimulation than essays or novels written for a class. I know for a fact that short stories read in middle school can have more of an impact on somebody than novels read for a high school exam. Analysis of short stories is certainly possible, and is often done in classes, but being able to read for a more personal type of learning is a valuable opportunity.
If I hadn't started reading and writing from a very young age, I definitely wouldn't be an English major. I love the opportunity to discuss meanings and interpretations, and all of the different
stories and poems I've encountered have left a mark on me. I believe that every person's unique perspective is valuable no matter the author's intention, but under the current state of American education, those perspectives are suppressed before they even have a chance to get off the ground.
I'll forever remain staunchly in defense of all the arts, but creative writing was the most influential on my life. It led me to where I am today. To deny children that same opportunity is completely unfair, and I hope that someday American educational authorities come to their senses. Expression is an essential part of human life, whether it's "useful" or not.