Katelyn O'Connor – Blog 4
Introduction by Lucia Valente
Earlier in 2020, Peter Ballagh of Global Experiences Ireland approached me to enquire if LoG would be interested in hosting an international student for a summer internship program.  Of course, we always are interested in supporting people who are pursuing education and learning.  The current Covid-19 pandemic posed a problem as it would not be possible to host a student in Ireland.
This is our third virtual internship with Global Experiences.  Peter and I agreed to this virtual internship for an eight-week period with a young American University student.  I met Katelyn O'Connor virtually and we agreed to a series of blogs about topics that are relevant and are of interest to her personally. Following is the fourth in the series of blogs by Katelyn.
More On -Philosophy and The Special Jesuit Liberal Arts Honors Program (SJLA)
About the Author
Kate "Oak" O'Connor is a rising fourth-year student at The University of Scranton in Scranton, Pennsylvania. A double English and Philosophy major at The U, O'Connor is also enrolled in the Special Jesuit Liberal Arts Honors Program (SJLA), an alternate general education track with a focus on the tradition of Jesuit liberal arts. O'Connor has been published twice in Esprit, The University's review of arts and letters, and was awarded the Berrier Prize for Poetry for "Penrose Wake." O'Connor has also presented a paper on Charles Dickens' travel essay "Night Walks" at Carroll University's virtual conference Victorian Pasts, Presents, and Futures. After graduating, O'Connor hopes to work in editing or in a publishing house– anywhere that the written word can be discussed, distributed, and celebrated.
***
Last time I wrote about SJLA, the philosophy honors program at my university of which I am a part. I wouldn't say it's an honors program in name only, but the focus is not on academic honors. I would say that the focus is more on personal honors. The SJLA program strives for individual improvement through the Jesuit value of cura personalis, or "care for the whole person."
As I've mentioned, SJLA stands for Special Jesuit Liberal Arts. I'll quote from The University of Scranton's website the four key points of education that SJLA professors aim towards:
Students will display a comprehension of the history of and major texts in Western philosophy, theology, and literature.
Students will demonstrate eloquentia perfecta in speech and writing, stemming from a mastery of the elements of critical thinking, reading, and listening.
Students will show evidence of personal formation – a thoughtful sense of their relationship to themselves, to others, and to God- and of the role of cultivated community in personal growth, discernment, and life-long learning.
Students will demonstrate, based upon study and on personal experience, the ideal of being men and women for others.
The intention is to educate students in ways that are rooted in Catholic tradition and Western philosophy. Sadly, SJLA is a unique program as far as I am aware; there are other Jesuit institutions that teach these values, but the specific structure of alternate general education through Jesuit teachings is not found at said institutions. Perhaps this is for the best, as it takes a certain kind of individual to tolerate—and even enjoy—wearing a toga while reciting Plato's Phaedrus.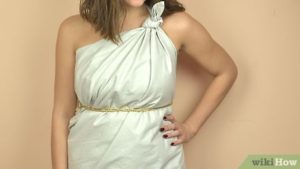 That scenario was the final project of The Trivium, an infamous class that has been taught by one professor for at least thirty years. This class was all about reading, writing, and rhetoric, and it is widely regarded among SJLAers as a kind of hazing. If you can get through Triv during your sophomore year, you might as well stick with SJLA. In the 2019-2020 academic year, this course was only offered in the spring, which means my class did not have the privilege of wearing bedsheets in public. Instead, we did our projects over Zoom in one big meeting—but we still had to wear the bedsheets.
Each person was given a section of Phaedrus to paraphrase, not to memorize, and the goal was to create an oral recounting of the dialogue that would make sense to somebody unfamiliar with it. My section involved a myth that Socrates tells his pupil, Phaedrus, about the Egyptian god Thoth; Thoth offered the gift of writing to a pharaoh, who rejected it, saying that writing would dull the human intellect and oral tradition was the best way to keep one's mind sharp.
Although our experience was below par, our enthusiasm remained the same, and there have been talks of a big toga party to make up for it.
Part of the reason why SJLA is so enjoyable—despite the academic rigor and occasional public humiliation—is the sense of community. You can't dress up like discount philosophers together without being friendly with each other; it just won't work if everybody feels like they have to go through the class alone. The sense of camaraderie is key to the program's ongoing success. I see myself years down the line still friendly with the people I met through these classes. I wouldn't have my college experience any other way.