Prepared By Lucia Valente
(Photo: KSSS team – Dr. Talal on the right of Lucia)
The first stop on my travels outside of Ireland was Kuwait on February 1, 2018. The purpose of my visit to Kuwait was twofold:
Meet with Hasan alKandari
Meet with representatives of the Kuwait Society for Student Support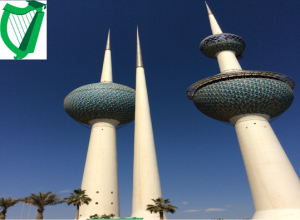 I met with Hasan alKandari in Kuwait City. Almost 40 years ago, Hasan went to Graduate School in the US with Dara, our Chief Architect and they have remained friends since.
Hasan introduced the work of LoG to the Kuwait Society for Student Support (KSSS) and specifically, to Dr. Talal Abdulkareem Al Arab, with whom I met in Kuwait.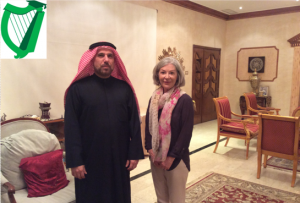 I did not know a lot about KSSS before meeting with Dr. Talal in Kuwait. The website is slight and in Arabic, therefore not too informative for me. Meeting with the KSSS team and seeing the array of photographs, plaques and acknowledgement letters in their offices are, indeed, impressive. KSSS began in 1963 and to date have been involved in more than 100 projects throughout the Arab world.
KSSS is involved in huge projects – building schools and colleges as well as providing all of the elements needed to establish a suitable learning environment.
KSSS liked our work and agreed to provide funding to support two teachers using our modules in high schools in Palestine. Two of our team members in Palestine – Anwar Jaber and Khaled Qarout – now teach at local high schools and use the modules that they developed with Professor Kelso, Olympic College, Washington State, US.
In a follow-up post, I will share photos of Khaled Qarout, a member of our team in Palestine, and his students.
A special 'Thank You' to Dr. Talal Abdulkareem Al Arab and the KSSS team for their support.