Introduction by Lucia Valente, Founder, Loss of Generality
(LoG) www.lossofgenerality.org
and
Computational ClassNotes (CCN) www.compclassnotes.com
Earlier this year, I had the privilege of visiting Nigeria to meet with Professors at several Colleges and Universities. While in Nigeria I had the amazing opportunity to meet with two wonderful non-profits that share the values and ethos of Loss of Generality and Computational ClassNotes.
In this article Samson refers to the work of Skills Outside School Foundation (SOS) a wonderfully inspiring organization in Abuja that is changing the lives of many young people. SOS provides tangible skill building programs and real-life work practicums and internships.
http://www.skillsoutsideschool.com
As founder of both a commercial business and non-profit, where the focus is on delivery of education using advanced technology, my goal was to make our education solution available to students who may not have ease of access to advanced education technology. Having both entities under my purview and working with an inspiring team, I feel that we are in an enviable position to reach out to students and potential students. Our focus is on those students who have a desire to learn advanced skills and yet do not have access. We believe in breaking down barriers and that's what we do!! Below is the story of one of our students who we are training through LoG in advanced programming skills. Samson shares with you how the work of LoG and SOS have had an impact on his life……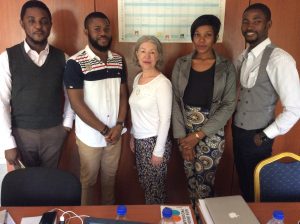 Education has a unique importance to me. The secondary schools in my community posed a great limitation to my quest for quality education given the poor infrastructure and teaching aids. I live in Nasarawa state, but given that the schools in Abuja, the nation's capital are better, the decision was to enroll in a state school in Abuja. That, however, meant that I had to commute from Nasarawa to Abuja every day. This was tedious as I had to wake up as early as 3:30 am every day.
Travelling a 2-3-hour journey in a crammed bus (with the rather poor transport system in Nigeria) to school in a terrible traffic posed another daunting challenge as it stole my time for personal study and homework. Soon, I discovered that a minimum of 2 hours going to and from school was actually 4 hours of study – an ample amount of study time. Hence, I resorted to studying in the bus amidst all the noise generated by commuters and their vehicles. It was difficult at first, but I soon adjusted. The experience enhanced my adaptability to any environment. Now I can study anywhere, anytime, and still maintain full concentration.
Sometimes transportation fare was a challenge. Hence, I had to walk about 2km to get a bus. Sometimes, I would not get a seat and would have to stand for more than half of the journey. I believe these experiences were vital in making me the resilient person I've become as thriving outside my comfort zone has become synonymous to breathing for me.
My secondary school days was very exciting and productive. It was in my first year I discovered that my life assignment is to positively transform human life via tech innovation and collaboration with the world's brilliant minds. Since that discovery, I've focused my resources and energy in that direction. I have, thus, been able to complete 4 tech projects related to agriculture and transportation and participated in more than 30 extra-curricular activities in academia, public speaking, writing, theatre arts, engineering, sports, community service, and Christianity spanning across 12 clubs and societies. I graduated from Government Secondary School, Wuse Abuja as a valedictorian with a CGPA of 3.7 out of 4.0 and 12 academic awards.
During the course of my secondary education, I encountered a Foundation, Skills Outside School Foundation (SOSF) that equipped me with employability skills via its Bridge Program workshops, sponsored the rest of my secondary education, gave me insight opportunities in top organizations like Shiroro Hydroelectric, and finally gave me the opportunity to give back by volunteering in the Foundation as a Program Support Officer and a Skills Trainer. The experience improved my teamwork and problem-solving skills and made me more commercially aware of my career in Information Technology.
Moreover, the Foundation recently connected me with an Irish organization, Loss of Generality (LoG) that works with high school teachers, college professors and students to develop cloud educational modules for students. These modules don't only make study and practice attractive and effective for students, but also make student performance evaluation more efficient for teachers and professors. LoG trained me for several months in Introductory Wolfram Programming Language – Mathematica, Calculus and Trigonometry, and has recently offered me a role in the organization where I get to test the efficacy of these cloud educational modules before they are given to teachers for use in classes. As we progress, I will be taking higher responsibilities of coding the cloud educational modules and training others to do same.
This offer came to me as a very delightful surprise. What could be better than training, working on things you're passionate about and earning? I see this triad of personal development, career building and financial security as a dream come true. I value this opportunity so much as it is completely in line with my assignment to positively transform human life via tech innovation and collaboration with the world's brilliant minds. No doubt, education is a catalyst for global, positive change, and it is indeed a great opportunity to be on a team that is actively combining this catalyst with technology to touch lives all over the world. It is a matter of being transformed and transforming others with education. Hence, I look forward to having the best of time working with LoG.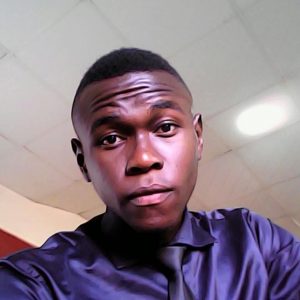 Written by Samson Okaludo.
– Make available to all Students/Learners Advanced Computational Educational Modules for analytical sciences in any geographic location or environments where there are access restrictions. –