ALIG – A Literacy Initiative Group
By Lucia Valente August 2019
A few months ago, Loss of Generality (LoG) was approached by a teacher from ALIG. Preeti Kumari reached out to enquire if we would be willing to partner with ALIG in India.
So, I checked them out and found that the ethos of ALIG is aligned to that of LoG. Education is at the heart of the work of ALIG:
ONLY THE EDUCATED ARE FREE
EDUCATION COSTS MONEY BUT THEN SO DOES IGNORANCE
At LoG we believe that ease of access to top quality education is vital
EDUCATION IS A HUMAN RIGHT 
ALIG defines their ethos in similar language to that of LoG:
EMPATHY is in our SOULS
ALIG – A LITERACY INTIATIVE GROUP was established in 2008 as a Non-Profit Organization in Jamshedpur, Jharkhand.
We believe that a positive change in the society could be done with the health of knowledge based sustainable programs in the fields of Education, Health and Skill Development.
Our core values of Empathy, Integrity and Commitment make us strongly believe that in the present world order "ONLY THE EDUCATED ARE FREE"
Education
21st Century India, with its increasing young population aspires to be world leader. To achieve this goal, functional literacy even at the grass root levels, is the only possible path.
The state of education in the country is abysmal to say the least. According to Education for All Global Monitoring Report (GMR) released by UNESCO, India has made headway in improving access to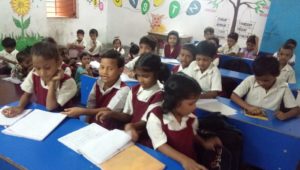 education, but it has the highest number of adult illiterates in the world. This has been identified as the DRAG FACTOR.
Various reports published on the state of education has questioned the quality of education and learning gaps. India is facing extensive learning crisis, which
 could be addressed only through focused and sustained engagement with schools. ALIG has identified Education as one of the focus areas.
Skills
Skill building, and training is an important tool to build the efficiency and quality of services and economic growth. India is one of the youngest nations in the world and with majority of its population in the working age group.
Given the present demography, India has the potential to become hub for skilled human resource. Skill training is important because of the increasing pace of globalization and technological changes that are taking place the world over.
Skill building is also an instrument to empower the individual and improve their social acceptance.
As I speak with members of the ALIG team and read the web site, I see full alignment to the core ethos of LoG. I had the opportunity to speak with Mr. Imran Ali, Executive Director of ALIG. We had a mutual understanding of our respective work running grass roots non-profits with aligned visions. We are blessed to live at a time when two different cultures and countries – operating at vast geographic distances – can collaborate towards a mutual goal.
I founded LoG and fund it personally because of my passion about doing something that makes a difference in the life of people who want to learn – who want to build a positive future for their family – and do not have ease of access to top quality education.
As ALIG states:
ONLY THE EDUCATED ARE FREE