ALIG – Preeti Kumar
Prepared January 2020
ALIG's Mission:
We believe that a positive change in the society could be done with the health of knowledge based sustainable programs in the fields of Education, Health and Skill Development.
Our core values of Empathy, Integrity and Commitment makes us strongly believe that in the present world order "ONLY THE EDUCATED ARE FREE"
I had applied to ALIG as a volunteer teacher, so I was surprised when I was sitting in the meeting room and being offered a completely different role, The role of a content developer for ALIG's new project. It was explained how ALIG wanted to take the next leap and introduce digital learning in their schools, to give the children under them the best of what education sector had to offer. And for this they wanted me to take the lead, to organise and build the resources required to teach the whole curriculum in a digital platform.
To say I was hesitant would be an understatement. I was given a day to decide whether I wanted to take this role or to stay with my choice of becoming a teacher.
I had my answer pretty clear in my mind, I wanted to be a teacher. That's what I had come for. The responsibility and the heaviness of the other role was too much for me. I had no idea how I would even begin to do the work needed for this project.
But the next few words from ALIG's founder, Mr Assad Khan, changed how I was viewing this. To slightly paraphrase, Mr. Khan pointed out to me that as a teacher, maybe I would impact 50 students; if I choose to take on this new role, I would be impacting more than hundreds of students. These words were the ones to completely change my decision. Although I still didn't have any idea how I would do any of it, I knew that I wanted to do it.
So, I took the offer, which was the start of everything.
Now came the point where I had to come up with a plan. After browsing through the internet, trying to find videos and e-books that I could use, I soon realised there wasn't much out there that could be used. We needed something more personalised.
Having been personally in contact with a staff member from Loss of Generality, I remembered the work they did. The customized modules designed by Loss of Generality were perfect for what we needed for our project. At the same time, I put my knowledge of digital art and basic animation skills to use in order to come up with videos and digital books.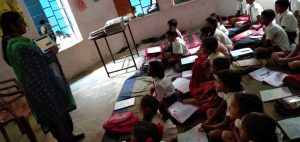 I finally had a plan to follow.
Another thing that was important for me to do was to have a good knowledge of the on-rhw-ground reality. I made frequent visits to schools, met with teachers, interacted with students and taught a few classes. All this to gauge the challenges we were facing, the level of education these kids were exposed to, their own potential and where the existing method of teaching was lacking, what more could we give to these kids, what more did they need?
The cooperation from the teachers and the staff members from ALIG made the whole process a lot easier. Having worked with the kids for much longer than I had, the insights I got from teachers were extremely helpful. I got to see first-hand the environment these kids were exposed to and how that itself posed a lot of hurdles in their learning.
Whether it was an unhealthy family life, toxic influence from friends or the very mindset they had grown up with that gave very little to no importance to education, all of it had contributed to their deterrent.
The aim now was not only to get these kids to learn, but also to get them excited to learn.
I believe that with the collaboration of ALIG and LoG we will achieve that goal.
My work with our teams over the last few months and the preliminary successful roll out of our education modules have convinced me that.