Wenzela Laput 
Intern at Loss of Generality Summer 2020 
Prepared August 2020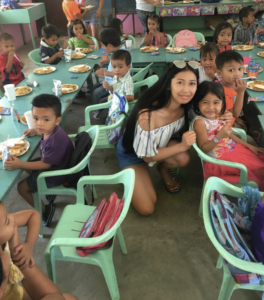 Hi! My name is Wenzela Laput and I'm 19 years old. I am currently in my third year, studying Analytical Science at Dublin City University.  
I was born in the Philippines, but my family and I moved to Ireland when I was only 5 years old. My dad is a mechanical engineer and my mum is working in the Health Service Executive (HSE) as a nurse. Even though I was raised in Ireland, my parents ensured that I remained connected to my Filipino culture and roots. As a new immigrant, it was often hard for me as I didn't know a drop of English and I was very aware that I stood out. But now, I am so grateful to call both Ireland and the Philippines my home. From a young age, I have been exposed to so many different cultures and have formed friendships with people from different backgrounds and religions.  
In secondary school, I got to balance learning Irish and French, all while still conserving my native language Visaya. Getting to live in two countries, both at opposite ends of the socioeconomic spectrum, has made me open-minded and appreciative of a multi-cultural society. 
Like most people in the Philippines, my family was not born with everything handed to them and instead, they worked hard to earn their success and to put everyone into college. They always taught me that education is a privilege and I need to utilise mine to help those who are less fortunate. I am passionate about using my privilege to help the next generation of students from marginalised backgrounds and using education as the tool to break the cycle of poverty.  
I think what the LoG team are doing is very important as seeing poverty first-hand in the Philippines, there are children who have the desire to learn and could be future doctors and scientists, but they lack the resources. How can kids escape the impoverished life that they were born in when it's that same poverty that is holding them back? Being from a developing country has motivated me to take my education seriously so someday I can use my knowledge and help support kids in their education too. 
When I first saw the volunteer posting for Loss of Generality and spoke to Lucia, I had no idea what to expect. But when I heard of their ethos and what they were doing, I knew I wanted to be a part of it. It wasn't a long time ago that I was the one studying for exams in secondary school and was struggling with Chemistry and Maths. I never considered myself the best at STEM subjects and initially had no interest in a career in science. I became more intrigued when I heard about different stories of young girls who were murdered and sexually assaulted, and it was forensic science that could tell their stories and help bring them justice. I was really inspired at how science can be used in so many different ways to help people and even though I wasn't the best at it, I was really stubborn.  
My parents supported me so much that they registered me in grinds classes just to help me in those subjects. But I quickly realised that academic videos on YouTube and modern learning websites which were free and available to any student was what actually saved me instead of textbooks and grinds notes. I would have never envisioned that I would enjoy studying those exact same subjects and actually excel at them at a university level. I know there are other students out there who want to succeed and have interests in science, and it's a shame that they put off their dreams because of an unstimulating and outdated curriculum.  
In this modern era, technology is rapidly developing, and students are becoming more adapted to a visual style of learning. I think it's important to create a learning environment which advertises STEM courses as more engaging and inviting. I want to thank Lucia and the LoG team for creating an e-learning platform which can give other students a chance to learn and grow regardless of their financial situation. Having this opportunity to be in contact with different people from different countries, sharing ideas and learning from each other has only cemented my belief that using our own privilege and education can help achieve a better future for generations to come. 
At the moment I am working with members of the LoG team developing a computational chemistry book (C-Book).  We are a virtual team – me in Ireland, Imran in the US, Hussaina in Nigeria and Malak in Palestine.  The book is being designed to facilitate learning chemistry concepts – and it's being designed by people like me – either current students or recent graduates.  We know what the challenges are in learning such subjects and can bring a modern learning experience to students.