ALIG – Educational and Welfare Society
A new initiative by ALIG – focus on Women's Health
Prepared March 2021
Women's health concerns are numerous and influenced by various factors like gender disparities, early marriage, domestic violence and sexual abuse, malnutrition, poverty, illiteracy and access to quality healthcare. Women form an important pillar of society and they are the primary caretakers, but still, they suffer more and have poorer health outcomes around the world – with repercussions not only for women, but also for their families.
ALIG Educational and Welfare Society (ALIG) in collaboration with Sangam Mahila Samiti and Prayagraj Power Generation Company Ltd. (PPGCL) dedicated the week following the International Women's Day (8th March- 12th March) to spread awareness about women's health in the villages of Kapari, Jorwat, Bemra, Berui and Khansimra in Bara block of Uttar Pradesh. The sessions covered nutritional needs of adolescent girls and women and focused on menstrual hygiene management.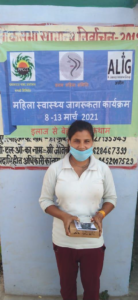 71% adolescent girls in India remain unaware of menstruation till menarche. A recent study conducted in all the gram panchayats of 75 districts of UP by Integrated Child Development Services (ICDS), a programme run by Ministry of Women and Child Development (MWCD) revealed the grim realities that when menstruation begins adolescent girls in the state either leave their schools or attend classes in discomfort due to inadequate sanitation facilities. As per the study, 25 percent of girls dropped out of school when they began menstruating.
PPGCL identified the need to address this grave problem in the rural areas surrounding the power plant. 10 awareness sessions were conducted to educate young girls and women on the female reproductive system, the menstrual cycle, hygiene management and nutritional needs. This was followed by an analysis of the various available period care products detailing the usage, material, cost, disposal and advantages and disadvantages of each. It was heartening to see the women react positively to the need for adopting sustainable menstrual practices and reducing the waste generated by disposable sanitary pads which are not only harmful to the environment but are also hazardous to human health. The chemicals present in these can cause endocrine disorders and life-threatening diseases like cancer.
The session was followed by distribution of eco-friendly, cloth pad kits to all the participants. The correct usage and care were explained. Emphasis was given to washing and drying the cloth pads carefully to ensure safety and hygiene. Participants also filled in a quick survey form to help understand their current menstrual practices and the issues they faced. Refreshments were provided to all the participants.
PPGCL and ALIG are hopeful of having started the long due conversation around menstrual hygiene management and breaking the taboo surrounding it. The positive response that the sessions received are testament to the fact that rural women are ready and willing to adapt to changes that affect their health and subsequently the well-being of their families.