Irish Life Boats – An Important Volunteer Association
March 2021
Prepared by Lucia Valente
For such a small island nation, Ireland has a long coastline that borders the Atlantic Ocean on the West and North coasts and the Irish or Celtic Sea on the East and South East coasts.
I live on the south coast of Ireland and enjoy walks along the local strands.  We are lucky, that in Ireland we can do that year-round.
Recently I was at the strand close to my home and the local Life Boat volunteer team came into shore.  They were training in the local bay.  The Royal National Lifeboat Institution is a proud institution in our island nation:
https://www.irishlifeboats.com/about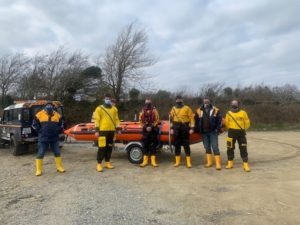 As I watched them on the water and when they came on shore to load the dinghy on the trailer, I chatted with them for a few minutes.  I reflected on the range of volunteer opportunities that exist and the cross section of society who make themselves available to help the wider community.
As the weather gets warmer many of us will be on the water, boating, sailing, swimming, surfing, kayaking, and the many other activities that draw us to the water.  For me, knowing that there are dedicated volunteers and an association that provides important information about water safety and that rescues people at sea, is a good reminder of what is good in the world.